The Dark Knight Rises Review


The Dark Knight Rises is one of the biggest and most ambitious film ever made. After The Dark Knight and Inception Christopher Nolan could likely do whatever he wanted, and that's what he did. This ends up being TDKR's biggest strength and greatest weakness at the same time. Nolan has always had problems with plot and pacing and now that everything is amped up to provide a satisfying conclusion, those problems are only multiplied.

The plot is an absolute mess. It's very hard to follow just what is happening, and it changes direction so many times that it just becomes confusing. If you thought Inception was too intricate, wait for this. There's too many characters, too much going on. I'm not sure if any Director could hold a story this big together.

That being said though, it's still fantastic. The Dark Knight Rises solidifies Nolan's Batman trilogy as one of the greatest film trilogies in cinema history. It covers so many genres. It's a war film, an apocalypse/disaster film and of course at it's core, a superhero action film. Stakes have never been this high. Well, they've never FELT this high. The film builds and builds and builds, all of these terrible things happening. Everything feels so desperate.  Through most of the movie, you can't picture at all any possible way the film could end well. You really have no sense of what's going to happen. "The night is darkest just before the dawn." The Dark Knight Rises gets very dark.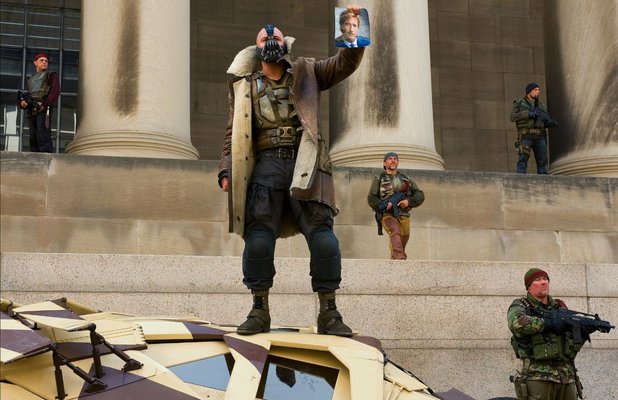 The performances are all incredible. Tom Hardy is definitely the standout as Bane. He towers above Batman and Gotham. I have to say though, there are still some voice issues. I couldn't understand some of his lines. Maybe it was the sound in the IMAX theatre I saw it in. Regardless, Hardy is terrifying. If anyone could break the Bat, it's him. Anne Hathaway is good as well, though along with most of the cast she really has nothing to work with. The film is so plot intensive that you never get a moment to spend with these characters, without it pushing along the plot. Michael Caine brings all of the emotion to TDKR. Nolan has always had trouble filling his films with any emotion, but Caine certainly brings it.

Is it even worth mentioning that the visuals and sound are absolute, top of their game, incredible. Go see this at an IMAX theatre. The 75mm IMAX footage are the best visuals to date. The action set pieces are enormous in scale, and paired with the beautiful cinematography and the fact that over a third of this movie is in IMAX makes it an absolute must.

The Dark Knight Rises is a beautiful, glorious mess of a film and I loved every second of it. It feels like a classic epic trapped inside the constrictions of a huge action film, and the need to somehow top The Dark Knight. I can't possibly say after only one viewing whether it's a better film than The Dark Knight, but it definitely does top it. Only time will tell whether this will be remembered as a classic or not. It's a film that definitely requires multiple viewings. One thing I'm absolutely sure of though is that it works better as a part of the trilogy than stand alone. There are a lot of connections (plot based and thematically) that really work in favour to round off the trilogy. Go rewatch Batman Begins and The Dark Knight, then watch The Dark Knight Rises.